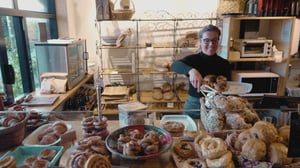 MAKING IT EASIER TO DO BUSINESS
The Chamber's new fit-for-purpose membership options are built with your business needs in mind.
A New Era of Chamber Membership
Welcome to a new fit-for-purpose Chamber membership built with your business needs in mind. This new model gives you the opportunity to choose the level of engagement and support you would like from The Chamber, and the flexibility to add on modules of specific services including human resources, manufacturing and global trade as your needs change.
Your Membership. Your Choice.
Our new model offers three levels of membership, so you can choose the level of Chamber support and engagement that is the right fit for your business. And our add-on modules for HR, Manufacturing and Global Trade ensure you get tailored support that the specific needs of your business.
NETWORK LIKE A BOSS
No one does networking like The Chamber. Make new connections, raise your profile and expand your network through Chamber events.
"As new business owners, it was daunting to tackle everything we needed to do to get started. Joining The Chamber has made our lives so much easier, supporting us with everything we needed to thrive in business. "
Our 2,700+ member organisations are a driving force in Canterbury's thriving economy. The work we do supports their success.
Canterbury Business Snapshot
8.8
%
GDP per capita growth